The Little Juniata River Association (LJRA)
326 Hobbit Hollow Road, Altoona, Pa. 16601
A 501 c3 non-profit dedicated "To Monitor, Protect And Improve the Little Juniata River and its cold water resources for all to enjoy, for present and future generations".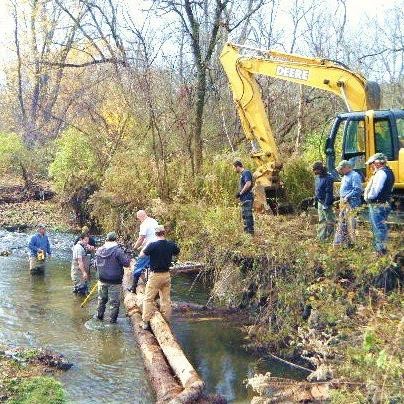 The Little Juniata River Association was first formed in 1998 by a small group of concerned local citizens following a major bug kill on the river. The original mission was to "Monitor the aquatic insect species and their population as they return to the river". Several of the founding members including John Pascavage, Lee Pryor and Sam Winters were trained by PA Department of Environmental Protection in proper methods for taking bug samples which they proceeded to do at eight sites on the Little Juniata. The cause of this almost total loss of trout food was never determined.
From 1998 until 2003, LJRA efforts were limited to monitoring water quality and the rebound of mayfly and caddis species. During this time the LJRA was organized as a 501 c3 Pennsylvania non-profit. In early 2004, current president, Bill Anderson led an effort to expand the LJA Mission from strictly monitoring to the current mission (see above). Since that time the LJRA has received many awards from state agencies, environmental non-profits and national organizations for its effective protection and improvement of this small Central Pennsylvania river.
The LJRA vision is for a fine Class A wild trout fishery extending from the headwaters near Altoona, 32 miles downstream to the junction with the Frankstown Branch. It is also our goal to achieve protection from pollution and degradation for the entire watershed by upgrading the PADEP "Designated Use" to "High Quality Cold Water".
LJRA now has over 400 members and through the efforts of its many volunteers, it continues to be a steadfast defender of the river. Here are some of the actions taken:
Lobbied the Pennsylvania Fish and Boat Commission, successfully for Catch and Release regulations (14 miles).
Stopped major sedimentation by repairing eight sites totaling 1400 ft. of badly eroding banks in the upper river.
Planted over 1000 shrubs and trees to restore riparian buffers.
Helped to persuade the AWA to install pollution abatement facilities to remove 90+ % of all phosphorous from the waste water stream.
Paid landowners over $200,000 for five miles of permanent public fishing easements.
Monitored bugs and water temperatures for entire river (ongoing).
Fought off unwise development on steep wooded slopes.
Conducted annual clean-ups on more than 20 miles of river banks. 2016 marked the 11th annual stream bank clean-up. Next clean-up is scheduled for April 8th, 2017.
Secured increased levels of protection for Little Juniata tributaries.
Typical stream bank erosion site being repaired with large stone, root wads and log cribbing to stop erosion and produce excellent fish habitat. Eight such sites have been addressed.
Learn more about the LJRA by visiting www.littlejuniata.org or email bjuniata@verizon.net.