Penn State Altoona Prepares for Canal Jam 2015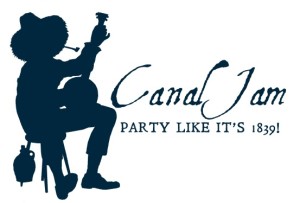 Party like it's 1839! The Penn State Altoona Division of Arts and Humanities and the Center for Community-Based Studies are preparing for the inaugural Canal-Era Music and Entertainment Summit – Canal Jam! 2015. The event will be held on Saturday, September 26, from 9 a.m. – 5 p.m. at the Allegheny Portage Railroad National Historic Site, Gallitzin, PA.  The event is free and open to the public.
This all-day gathering of professional and amateur musicians celebrates 19th Century folk music and other traditional forms of entertainment performed on the boats and in the "port towns" of the Pennsylvania Main Line Canal during its heyday, c. 1834-1857. Performers include Smithsonian Gold Medalists Dr. William Hullfish and the Golden Eagle String Band, Pittsburgh-based recording artists Up in the Batten House, and local scholar-artists Jerry Zolten and Richard Sleigh.
Canal Jam! 2015 is funded in part by an internal Community-Based Studies Project Grant.  The Canal-Era Music: Study and Performance project is led by KT Huckabee, Program Coordinator for Integrative Arts. "Faculty members involved have agreed that the Canal-Era Music Project is an excellent touch point for building a program of humanities-engaged scholarship at Penn State Altoona.  It is of sustainable value to students across disciplines and enhances the research and creative activity areas of my work as well as of the other involved faculty.  The unique partnership between the Greenway and Penn State Altoona can be used as a vehicle for innovative teaching, for new hands-on learning opportunities, and for having a practical impact on the communities in our service area."
A complimentary catered lunch will be provided for registered participants. You can register through September 24 at www.altoona.psu.edu/ccbs/canal_jam online, by calling 814-949-5246, or by emailing jkf16@psu.edu.  The event itinerary and guest musician biographies are listed on the registration website. For more information about the Center for Community-Based Studies, visit www.altoona.psu.edu/ccbs online.