Kiski-Conemaugh Water Trail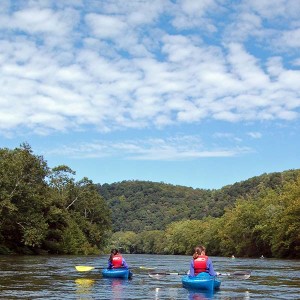 Kiski-Conemaugh offers 86 river miles of paddling along the borders of Somerset, Cambria, Westmoreland, Indiana and Armstrong Counties. Features include Conemaugh and Packsaddle Gaps, nearby bike trails and historic communities.
The headwaters of the Conemaugh originate at around 3,000 feet above sea level and the course of the river drops to 967 feet above sea level at the mouth of the Kiskiminetas. Like many rivers, the ability to paddle the Conemaugh varies throughout the year with peak water flow occurring between February and May. Paddlers on the Conemaugh have an opportunity to explore the wealth of Johnstown-area heritage resources, the growing and changing community of Blairsville -check out the long awaited Blairsville Riverfront Trail! – and quaint and quirky Saltsburg.
The Kiskiminetas River begins where the Loyalhanna Creek joins the Conemaugh at Saltsburg. This section of the river features several character changes. Deep pools just past Avonmore give way to riffles and waves as the gorge narrows close to Apollo. Paddlers also have access to several Kiski Valley Greenway Communities.
The Kiski-Conemaugh Water Trail is a key feature in the Pittsburgh-to-Harrisburg Main Line Canal Greenway,™ a 320-mile corridor that follows the historic path of the Main Line Canal System. The Greenway is managed by Allegheny Ridge Corporation, which also manages the Allegheny Ridge Heritage Area, of Pennsylvania's Heritage Area Program under the PA Department of Conservation and Natural Resources. The Greenway serves as a conceptual and physical connector, linking heritage sites, historic communities, environmental restoration and community revitalization efforts.
The core directive of the Pittsburgh-to-Harrisburg Main Line Canal Greenway: facilitate a continuous land-and water-based recreation system that serves as a connectivity and unification tool for local governments and organizations wishing to create recreation, heritage, environmental, educational, and economic development projects that maximize the quality of life for Pennsylvania residents.
For more information please visit our Kiski Conemaugh Water Trail Facebook Page, our interactive map, or view our printer friendly maps below.

Printer Friendly Maps
Upper and Lower Sections (Maps 1-4)
Upper Section – Johnstown to Blairsville
Lower Section – Blairsville to Freeport
This project was supported in part by a grant from the Colcom Foundation and financed in part by a grant from Community Conservation Partnerships Program, Environmental Stewardship Fund, under the administration of the Pennsylvania Department of Conservation and Natural Resources, Bureau of Recreation and Conservation.