BRINGING IT ALL TOGETHER:Kiski Valley Greenway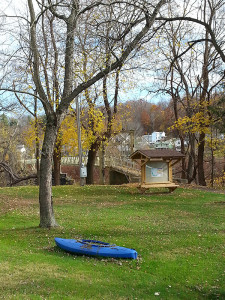 In 2012 18 municipalities and 3 counties along the 26-mile Kiskiminetas River completed a comprehensive greenway planning process, facilitated through the Main Line Canal Greenway. The Kiski Valley Greenway Plan offers dozens of recommendations for connecting bike trails, interpreting heritage, defining community gateways, and other mechanisms to position Kiski Valley communities to further benefit from their recovering river.
In 2015 several communities implemented recommendations from the plan, providing an impressive microcosm for rest of the Main Line Canal Greenway. The projects below were completed using PA Department of Conservation and Natural Resources funds administered by Rivers of Steel National Heritage Area and coordinated though the Main Line Canal Greenway.
Information Kiosks – 7 wooden kiosks and benches were constructed at river and trail access points. Most were constructed by volunteers. One side of each kiosk was left open for community use, the other side was populated with interpretive signs and/or river/trail town maps.
River/Trail Town maps – Westmoreland, Indiana, and Armstrong Counties provided in-kind services, designing maps of Saltsburg, Avonmore, East Vandergrift/Vandergrift, Leechburg, and Freeport that direct river and trail users to each town's businesses and points of interest.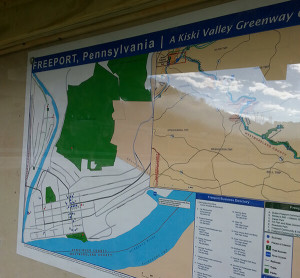 Interpretive Panels – 6 signs were created to illustrate individual town histories, regional heritage, and the role of environmental restoration in economic sustainability. This valley overflows with fascinating stories, but they are often hard to unearth. The panels bring some of these stories to light, and direct readers to local historical societies, where even more secrets are hiding! Cell phone heritage tours of some of the towns are also underdevelopment through Rivers of Steel.
A Kiski Valley Greenway Team will convene in 2016 to work toward closing 2 priority bike trail gaps, enhancing gateways at entrances to towns, and capturing the spirit of history and landscape with public art.
The Kiski Valley Greenway represents the full circle of greenway development – environmental stewardship feeds outdoor recreation, historic interpretation fosters a sense of place, which supports community revitalization, circling back to engagement in stewardship.
Learn more about the economic benefits of greenways read the PA Water Trails article in this newsletter or go to our Impact page.